What Our Office Cleaning Service In Paddington Includes?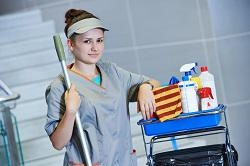 Keep Your Office Clean & Healthy with Carpet Cleaning Paddington!

At Carpet Cleaning Paddington, our top priority is keeping your workplace clean and healthy. We know that a well-maintained workspace is crucial to productivity and morale, so we make it our mission to provide you with excellent industrial cleaning services. We are proud to be Paddington's go-to office cleaners, and our team of expertly-trained professionals always goes the extra mile to make sure your business looks its best.

Our team utilizes state-of-the-art techniques for office cleaning in Paddington, ensuring that each job is performed with the utmost attention to detail. From dust removal and sanitation to vacuuming and window washing, we do everything it takes to get your office sparkling clean. In addition, we also provide comprehensive options for carpet cleaning, floor polishing, sanitary disposal, and more.

We understand how important trust is when it comes to getting a commercial cleaner into your office. That's why we take the utmost care in selecting our employees and training them to meet the highest standards of professionalism. We guarantee that all of our staff members are courteous, punctual, respectful, and discreet at all times. Most importantly, they will always treat your property and possessions with the utmost care.

If you're looking for an experienced industrial cleaner who can help keep your office in top condition – look no further than Carpet Cleaning Paddington. Our tailor-made approach means that no matter what kind of premises you have or how often you need us to come by, we'll work with you to create a service plan that best fits your unique requirements. Plus, since we use the latest industry standard products and equipment for every job, you can be sure you're receiving high quality services at all times.

Ready to book yourself an amazing office cleaning experience? Get in touch with us on
today! We are available 24/7 so don't hesitate to contact us anytime - we look forward to hearing from you!